5 Best Window Covering Ideas for Your Condo Patio Door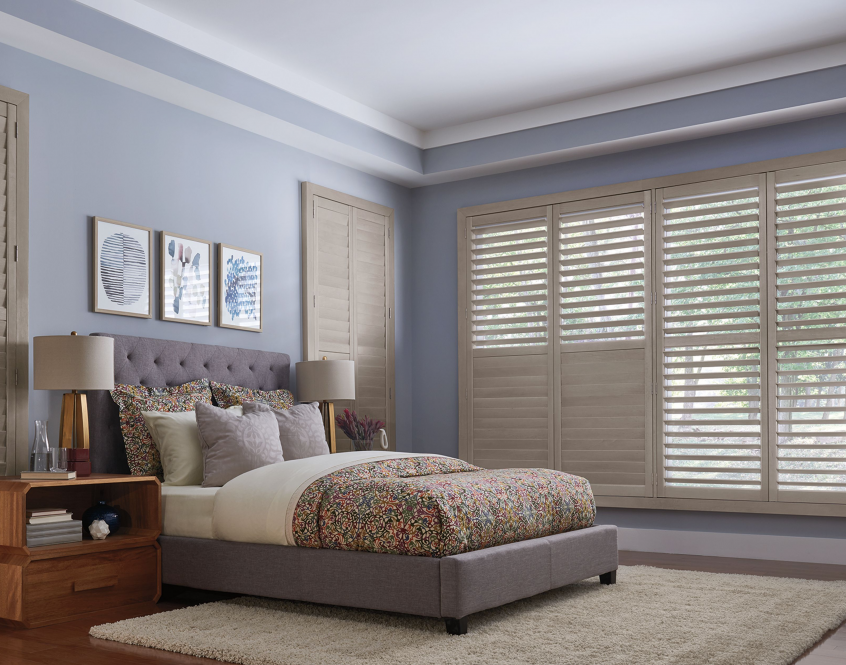 Patio doors are stylish and aesthetically pleasing, as they allow natural light stream effortlessly into the room. This opens up your room to the beautiful outdoor panorama and transforms the appearance of your indoor space. Yet, as amazing as patio doors can be, choosing the right window covering that maintains the usefulness of the door can be quite challenging. More so, this task can feel especially daunting if you live in a condo.
Since condo outdoor areas are regarded as "common area", there are rules that dictate appearance, including the ideal window covering condo owners can install. The idea here is to ensure the windows appear uniform from the outside, meaning that draperies, shutters, and blinds have to present a uniform outdoor face. While working with these rules may seem limiting, there are a wide range of window covering ideas you can explore while complying with the restrictions as set by your condo's association. Some of these were adapted from an excellent blog by the team at Shutter Boys, so be sure to give that a read (5 Blackout Blinds that were made for your sliding patio doors)!
Here are the three top Window Covering Ideas for your Patio Doors:
Window Covering Idea #1: Vertical Blinds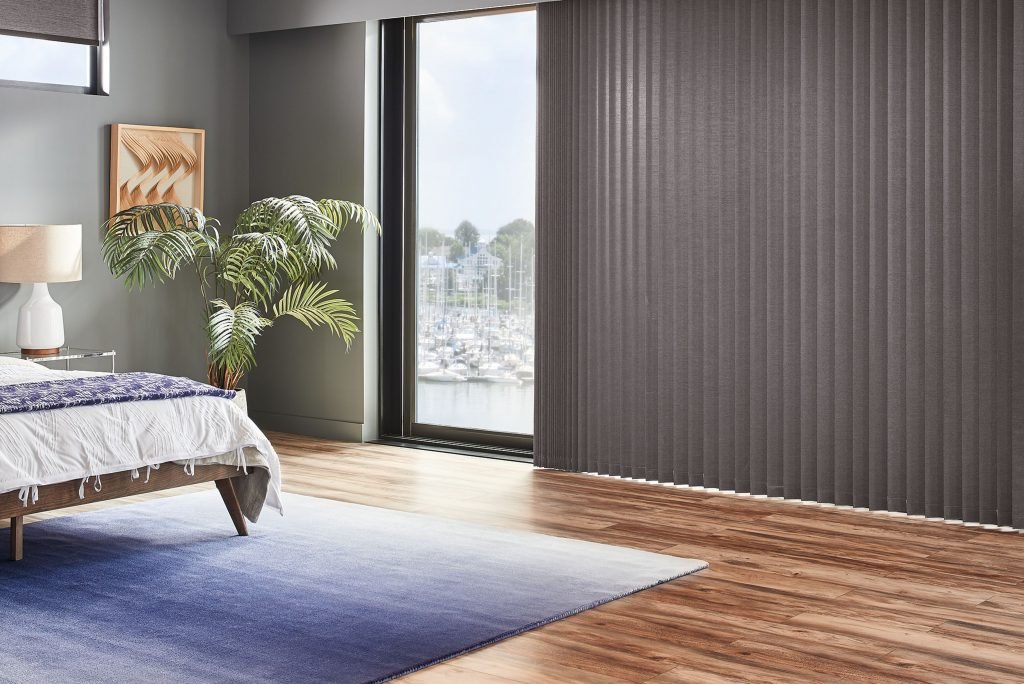 Vertical blinds are a popular option for patio or sliding glass doors, as they allow for easy operation with the doors and have exceptional light control. Although many condo owners think that vertical blinds no longer have an appealing contemporary feel, you can get modern and classy vertical blind from Roller Blinds Toronto with a variety of colors, fabrics, and elements that match your condo patio door. They marginally stack to the side, allowing for easy access to your outdoor area.
Benefits of Installing Vertical Blinds
They are easy to clean and maintain.
They move almost completely out of the way when pulled.
They offer light control and privacy.
Vertical blinds are available in wide widths – perfect for large patio doors.
Vertical Blind Slat Size
The size of the slat is one of the most important factors for a patio door. Slats come in different sizes: 1-inch, 2-inch, and 3.5-inch sizes. 3.5-inch slat sizes are a popular choice among homeowners due to the modern look it gives the indoor space. On the other hand, homeowners who prefer cheaper window treatments that require less maintenance should go for 1-ich sized slats. But 2-inch slats are still ideal especially for those who prefer to maintain a more traditional appearance in their home.
Vertical Blind Colors
Blinds are available in a wide range of materials and colors. To fit the color scheme of your room and ensure you comply with your condo's rules and restrictions, it is ideal to choose a neutral color patio door blind. However, if you must select a prominent color, check to ensure your choice maintains the uniformity of your condo outdoor area.
To limit the problems associated with your limited color choice and preserve the prestige of your condo building, we offer modern fabric blinds with neutral colors behind and a more prominent one on the inside to match your home décor. This setup allows you choose your preferred color, fabrics, and even patterns without any of the concerns associated with conforming to your condo association's requirements.
Window Covering Idea #2: Patio Doors with Built-in Blinds
Due to the many concerns condo owners have with vertical blinds, there are now special patio doors with built-in horizontal blinds. Sandwiched between two glass pieces and controlled by a slider knob, the horizontal blinds are resistant to dust and dirt. They also have an amazing modern style – and with a simple flick of a switch, the blinds can open and close.
Sliding Panels
Sliding panels are a great option for condo patio doors. Since the panels are operated on a track, they function perfectly with large areas of glass for patio doors.
Window Covering Idea #3: Curtains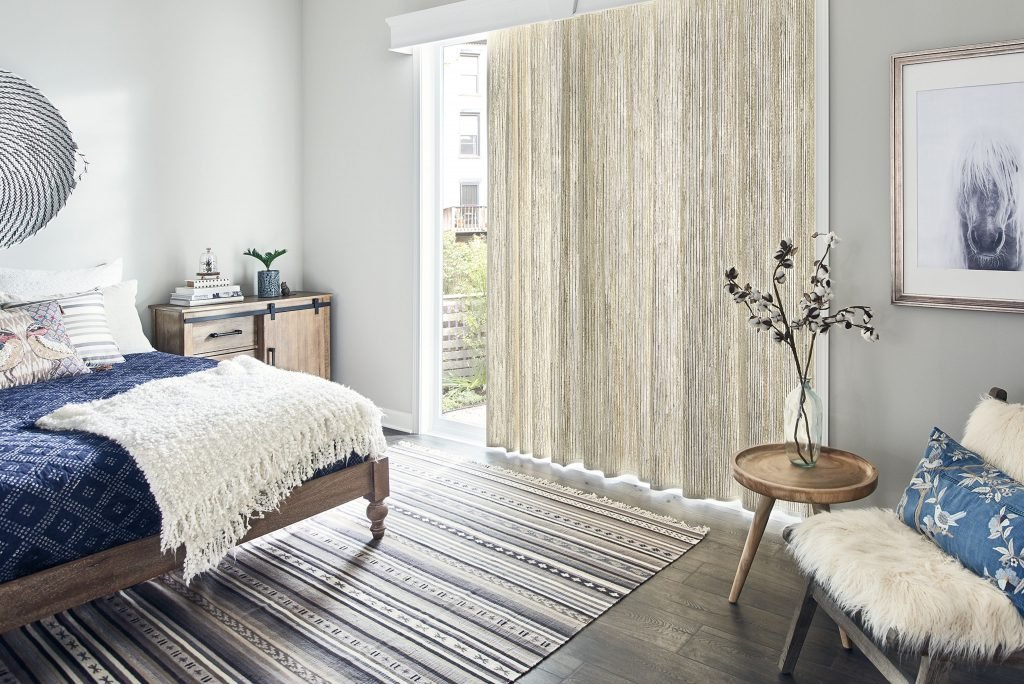 Curtains represent a quick and easy option for patio window treatments. They add style and class to your room, while providing seamless access to the door and light control. Curtains are available in a variety of colors, designs, patterns, and fabrics – and patio door curtains provide protection for the room against sunlight, while transforming its look.
Curtains are also important for the role they play in safety, as they help people realize where the window is. This is especially important for those with kids. It prevents situations where kids or guests walk straight into a closed patio door – and this could be dangerous. In any case, be sure to use a curtain that complies with the uniformity of your condo.
Window Covering Idea #4: Plantation Shutters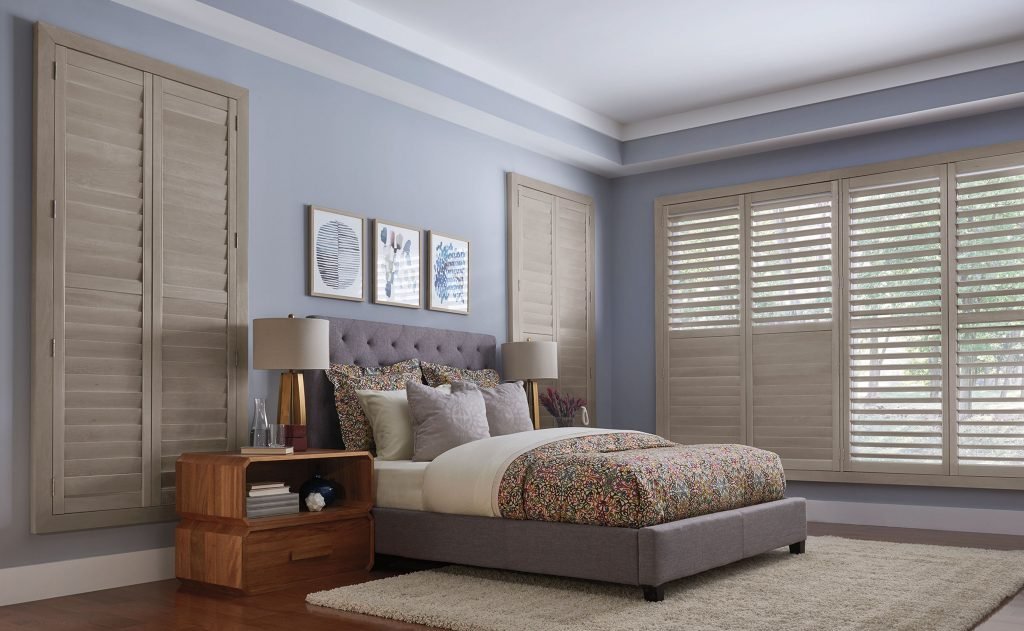 Plantation shutters are another popular and classy window treatment option for condo patio doors. Like sliding panels, they have a track and some shutters slide open and close while others have hinges that allow them slide open and close. Plantation shutters also come in narrow or wide louvers – depending on your preference – which gives you absolute control.
Window Covering Idea #5: Vertical Cellular Shades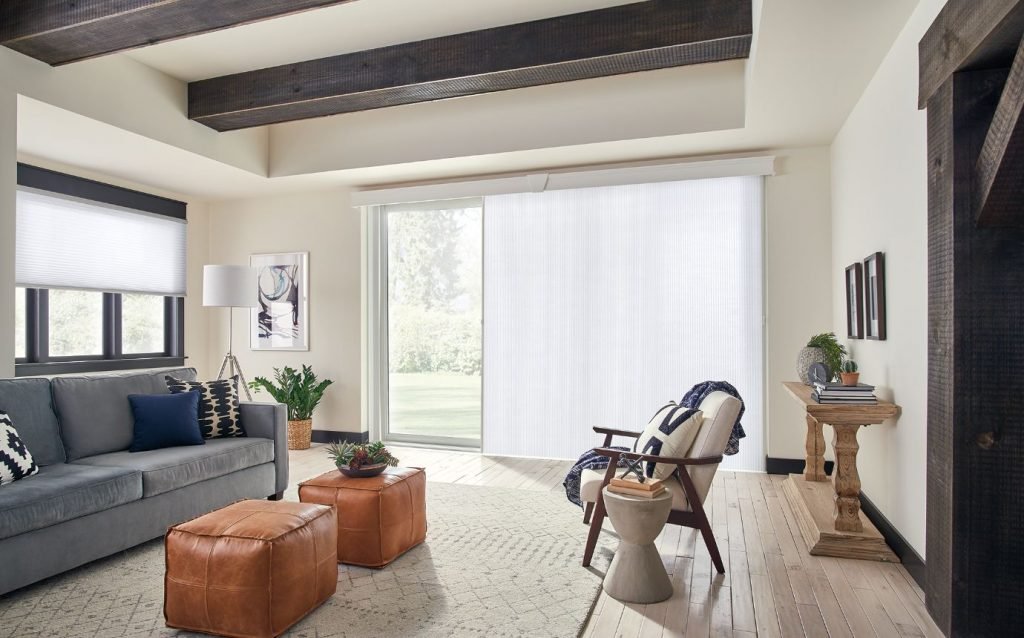 Cellular or honeycomb shades are a relatively recent window treatment option. They are great options for energy and cost efficiency especially in rooms with large glasses – and they come in either transparent of opaque varieties. Vertical cellular shades are also designed to take the shape of wide vertical pleats and can be pulled open, close, or even packed in the middle, as you prefer
There are several important factors you should consider when choosing window treatments for your condo. These factors will help you determine the patio door window treatments that are not only ideal for your condo, but fit the overall décor of your room.
Operate in Same Direction as the Patio Door:

It is ideal that your curtains open in the same direction as your door to allow for uniformity. So if your door opens from right to left, for instance, your curtains should go same way.

Light Control:

You'll prefer window treatments that allow you control the entry of natural sunlight.

Durability:

Consider that patio doors are high travel/heavy traffic areas. So it is ideal that you choose window treatments that will withstand pressure well over time. Do not settle for some cheap blinds as these ones easily crack under pressure from daily use.

Your View and Privacy:

Patio doors usually provide an appealing outdoor view of the yard, so it is important that you choose a window treatment that does not limit your view, but still allows you some privacy whenever you desire it.
Conclusion:
With a wide range of options such as shutters, blinds, cellular shades, and curtains, your choices of window treatments for your condo are as fluid as your patio doors. In any case, do ensure you strictly comply with your condo's policies about window coverings. Rest assured our extensive window treatment solutions at Roller Blinds Toronto have been especially designed to fit your needs – wherever you may need a matching covering.